Contact Us
Exceed SCITT
Holybrook Training Campus | Holybrook Primary School
Rillington Mead
Bradford
West Yorkshire
BD10 0EF
How to find us & where to park:
Our training venue
Our training venues can be found on Google Maps via this link: https://tinyurl.com/ExceedTrainingVenues
Most events are held at Holybrook Primary School, the Training Campus for Exceed SCITT and Teaching Schools, with car parking accessible by following directions to car park's closest post code: BD10 0JE. This post code is for Eccleshill Community Hospital. Our car park is on the left as your approach the hospital; look for the Holybrook Primary School sign soon after you turn onto Park Road from Harrogate Road.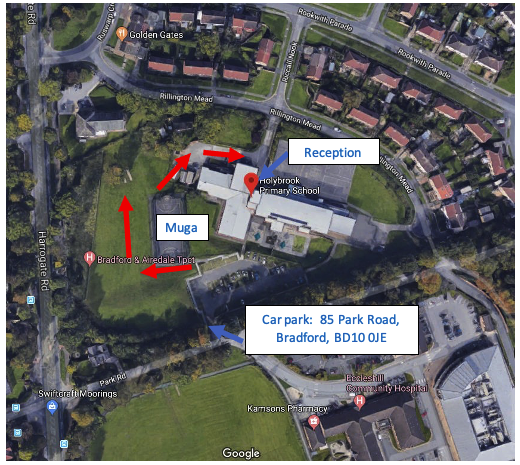 We have a 70-space car park off Park Road at the back of the school. The gates are open 07:00-09:00, 11:30-12:45 and 14:30-15:30 for parent and visitor access. From the car park, please proceed to walk around the muga sports pitch (please don't go down the steps and into the school playground) and enter the school via the reception at the front of school. There are Exceed SCITT and Teaching Schools signs directing you. You'll need to use the intercom to gain access through a gate at the far side of the muga (when you return to your car, please reach through the gate and press the button again to return to the car park). Please park considerately in marked bays.
If the car park is full or car park gates are closed
If the car park gates are closed, please use the button at the side of the car park gate to inform reception of your arrival as they can remotely open the gate.
If the car park is full, please proceed to the on-street parking available along Rookwith Parade (BD10 0DX) and Rillington Mead (BD10 0EF); this is a one-minute drive to the front of the school (see map, above).
Please respect our neighbours with considerate parking. Please respect parking restrictions. We encourage car sharing wherever possible. We cannot be held responsible for any damage caused to vehicles parked on-site or on local streets.